Computer Setup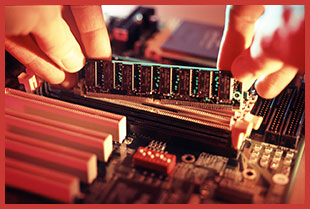 The I.T. Werks can setup and optimize your new computer or laptop. Service includes transfer of files, music, software and photos from your old computer onto your new computer. We can install your peripheral devices and setup your software. We also provide time to show you how your new computer works.
Services Available:
Transfer email accounts from old computer
Data Trasnfer to new computer
Install and Configuration of Software
Update Current Security Patches
Setup of Computer Accessories
Introduction and Orientation
Memory Upgrade
Computer memory updrage service. Upgrading your computer's memory (RAM) is the best way to increase overall speed and system performance. Most store bought computers can be made faster by adding more memory.  We evaluate your computer or laptop and make a recommendation based on your system specs. Includes install and testing of the memory in your computer.
A RAM upgrade or memory upgrade will speed up just about any computer or laptop.
Operating System Upgrade
Computer operating system upgrade service. Often an older computer or laptop can have a second life by upgrading the computers operating system. Our tech will also configure and update the system with current patches. We also optimize your operating system to fit your computing needs.
Services Available:
Hard Drive Wipe
Data Backup and Data Transfer
Operating system OS update and configuration
Installation and configuration of software
Introduction & Orientation
Update current security patches
Peripheral Device Installation
Install of computer and laptop peripheral devices. Includes install of devices like sound cards, printers, scanners, gaming devices and cameras. Setup of internal and external computer parts and devices. We will even give you an orientation for your new equipment. 
Services Available:
PCI, PCIe Card Install
Blu-ray, DVD and CD drives
Digital Camera
Printer Setup
Computer FAX or Scanner Install
External Storage Setup
Graphic Card Upgrade
Video card upgrade service. Looking to play that cool new game? We can take a look at your computer and make personalized recomendations for a proper video card upgrade for any budget. Computer graphics cards vary in quality and price we can help you pick the right one then install, configure and test it.